UK TRADESMEN'S SALARIES - 2021
UPDATED - NOV 2021
The UK's Office of National Statisics has just released the 2021 pay figures. Average annual salaries and weekly pay for UK electricians, plumbers, bricklayers and other trades make for very interesting viewing.
The figures are averages based on reported income and are shown below.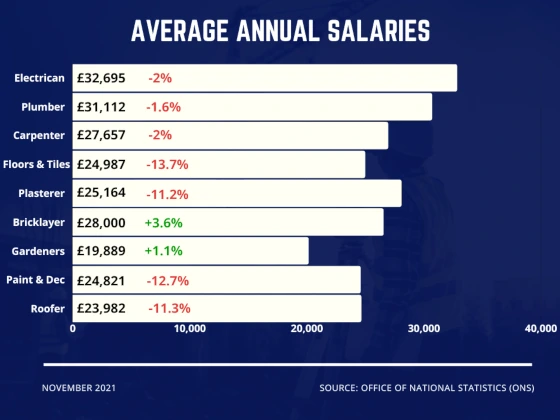 Some trades – such as brickies and carpenters – have seen a huge increase in weekly pay. But things don't look so great for any tradesman or woman when it comes to annual salaries. Most British tradesmen and women, the ONS figures suggest, have suffered substantial losses when it comes to overall annual salaries.
HOW SOME TRADESMEN EARN MORE
The anomaly between these increased weekly pay but decreased annual salary is likely due to the temporary nature of working during the pandemic. While UK tradesmen and women may have been paid more when they worked, they may have been forced to work fewer days or weeks due to lockdowns. This would see a decrease in annual earnings but not weekly pay.
GET YOUR WEBSITE FOR ONLY £135!
As ever, electricians and plumbers command the highest salaries. But who knows what other surprises the year still has in store?
Click here for a breakdown of salaries by UK region.